Auteur/Author: Lucrèce GANDIGBE
CULINARY SPECIALITIES OF IVORY COAST
Ivory Coast is a country in West Africa well known for its natural wealth, its banana breathtaking landscapes and of course its outstanding kitchen. Today we offer you a culinary journey in the Ivorian gastronomy.
In the range of sauces, we have many choices. We are going to present some of the Ivorian best known and most appreciated sauces.
Sauce Graine: This sauce that you can't miss in the Ivorian gastronomic register is made of palm nuts. Traditionally, palm nuts are cooked and then crushed in a mortar to extract the sauce. It can be cooked with meat or smoked fish.
Sauce Gombo: it is a sticky sauce made from fresh or dried okra, it is found all over West Africa. It is called Kope in .
kedjenou: it is a recipe made of bushmeat stew (deer, agouti) or chicken in West Africa and especially the center of Côte d'Ivoire. It is the recipe of agricultural workers and hunters. The traditional recipe is made in an earthenware container called canary, resting on a wood fire. Some ethnic groups called Baoulés use banana leaves to cover the opening of the canary. You can add eggplant or a few drops of palm wine.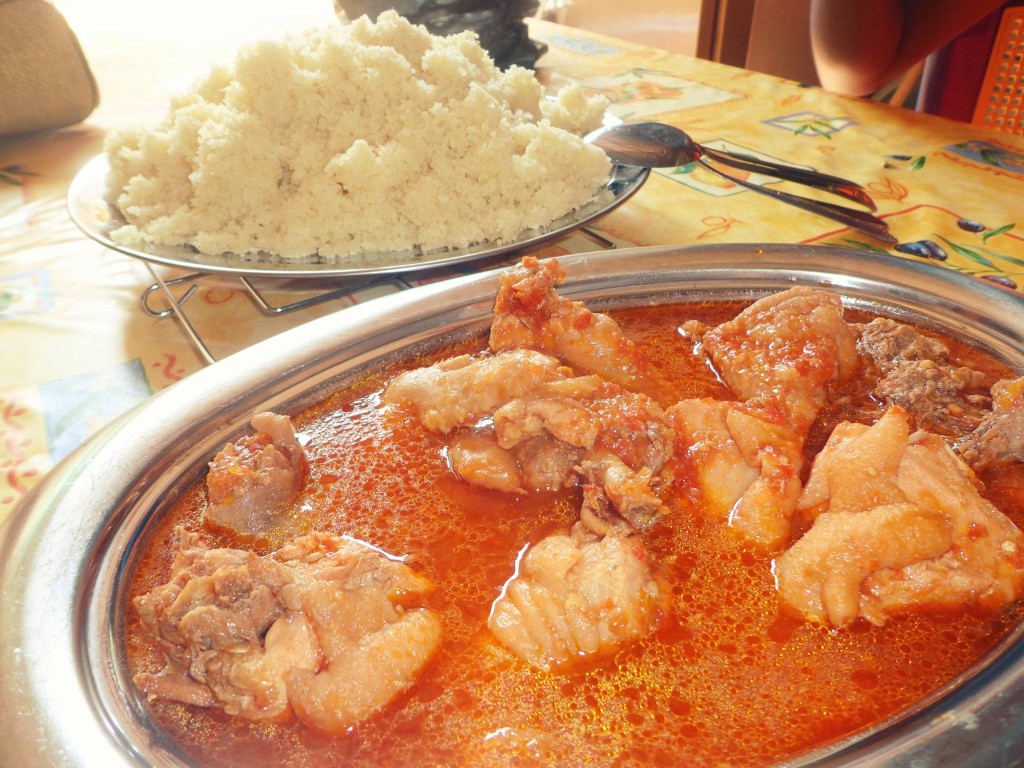 In the category of the least known sauces we have:
Kplala: this sauce is made from leaves of Jew's mallow.
Zaho: flat sauce with agouti meat, usually found in the western part of Côte d'Ivoire.
Gouagouassou: it is a stew accompanied by various meat, fish, cooked with a vegetable sauce (eggplant, okra)
Sauce gnangnan: it is a sauce made of gnangnans ; gnangnans are small, very bitter berries, with a taste of quinine.
In the range of accompaniments of  these delicious sauces, we have:
Foutou: commonly called the national dish, it can be done based yam or banana. It is obtained by pounding yams and bananas in a wooden mortar after it is accompanied with the seed sauce or the kedjenou.
Aloko: This variety is also known as plantain bananas that we eat a lot in Côte d'Ivoire
and Cameroon. It can be fried or cooked in steam.
placali: This is a fermented cassava dough usually eaten with seed sauce, okra or Kpala.
Kabato: it is a dough native of northern Côte d'Ivoire, it is made from corn meal, it can be accompanied with any sauce.
Attiéké: it is the most famous dish of dough . Made from cassava, Attiéké is a dish that can be found at all major events and festive menu in all the great restaurants, maquis and other eating places in Cote d'Ivoire. It is not surprising that this dish is famous. Indeed, cassava is not a scarce commodity. Cassava is a plant grown in large quantities in the country. This ensures market supply and a relatively affordable price. Thanks to the diversity of choice of accompaniments , fans of Attiéké and other admirers of this Ivorian culinary specialty can combine or vary at will the nutritional supplements for the sake of their taste buds.
Finally, let's make a tour of the local beverage consumed in the country. Most of them are also found in other parts of West Africa.
Bissap: This is a herbaceous plant of the Malvaceae family native of Guinea and that is found in many African countries. Also known as hibiscus flower, bissap provides a delicious juice slightly acid that can be consumed with or without sugar
Gnamankoudji: it is a juice made from ginger produced in Côte d'Ivoire
Baka: it is a rice porridge.
Tchapalo: it is a traditional beer made in the north based on cereals.
Bandji or palm wine is an alcoholic beverage obtained by natural fermentation of palm sap.
koutoukou or gbélé: it is a drink locally produced in Côte d'Ivoire
So during your next stay in Côte d'Ivoire which dish will you eat first?
view(s) 5718
Auteur/Author: Lucrèce GANDIGBE