Auteur/Author: Lucrèce GANDIGBE
Bine-bine, an ancestral beauty secret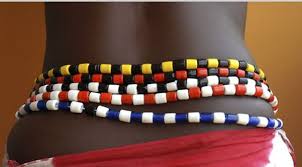 The seductive assets of African women are generally well-kept secrets. Today, we choose to reveal a size, pearls. Be careful, it's not about any pearls. In Senegal you will hear about bine-bine, in Mali and Guinea, we prefer the term baya. The Congolese will talk about Ziguida while in Niger it is about Tsakia. The appellations are as mysterious as the object itself. How else can one explain that simple pearls tied around the kidneys can have such an effect?
A pearl necklace around the kidneys and it's up to you
It is hardly credible and yet true. African women know how to hold their men by the end of their bine-bine. The choice of colors, shapes, assembly of the necklace, everything is cleverly thought to seduce. And the least we can say is that it works. It is the men themselves who confess it.
The choice of your bine-bin says a lot about your status
Highly rooted in African culture more specifically in West Africa, girls wear beaded kidney necklaces from an early age for, it is said, "shaping the arch". You will understand, the choice of pearls to adorn the size is not a coincidence. More than a beauty accessory, they transmit a message. The experts will tell you what is right for girls and what it takes for a bride. Is this the effect on the hips of the woman who wears them? Is it the delicious ringing of pearls when it moves? Or the bright colors and shimmering? We will never know what creates this hypnotic effect.
Want to try this weapon of massive seduction? Find our exclusive selection of beads and chains of sizes with artisans such as Nafytoo and Perlicious. And if you like pearls in general, you will be spoiled on Awalebiz with the creations of Ayele Ayih, Kinouche, Sika creation and many others. Looking for the perfect wedding gift for a friend? The bine-bin always make their effect.
view(s) 487
Auteur/Author: Lucrèce GANDIGBE